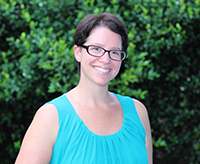 Dani Brahm


Founder & CEO
Hi, I'm Dani. I am so happy you've found Simply Refreshing Organizing Solutions! I live in beautiful Clearwater, FL with my husband and our two daughters.
I have been organizing spaces and things for as long as I can remember. From arranging the contents of my locker to allow for quick stops in between school classes to setting up the ultimate wedding planning binder for my big day, I have always enjoyed finding simple solutions to make my life easier. Throughout college I was always the first to volunteer when friends or family needed help with a move. While most people dread the thought of packing and unpacking, I have always seen it as a fun challenge to find the perfect place for each item to make the room fully functional. I am passionate about "green" practices, re-purposing outdated items, and finding new uses for old treasures; I once made an ottoman out of a favorite old dresser!
My organizing skills have helped me succeed professionally in the Healthcare industry for a decade. I have worked extensively with process improvement, waste reduction, and time & paper management projects. Working with patients has also given me a strong foundation in dealing with people at their most vulnerable state. I pride myself on being able to deliver compassionate, non-judgmental support during nerve-wracking situations.
As a busy mother of two young children, being organized has allowed me and my family to enjoy life to its fullest. We spend our free time enjoying the beautiful surroundings and activities Florida has to offer, instead of being home sifting through clutter. Our home is full of paper, toys, and "stuff", and like everyone else, it gets messy! But everything has its place and our home can go from disheveled to orderly in a snap because we have systems designed for our needs. My children are involved in the process and actually enjoy putting their toys and books away. I love creating systems that allow us to maximize efficiency and get everyone out of the house, mostly, on-time!
When I combined my organizing skills with my love for re-purposing items and creating systems for process improvement, the result was Simply Refreshing Organizing Solutions! I want to help you discover the benefits of being organized. If you are feeling overwhelmed by the clutter around you or you just need an extra hand as you tackle a project, I can help! I will never force you to get rid of anything, and will create systems that match your personality, lifestyle and budget. I am committed to designing solutions that balance creativity, beauty and functionality. You will be surprised at how quickly the transformation happens once we get started. I am ready to help, give me a call today!